Costa Rica: #RemoteWorkLife in Puntarenas Province
Written by Lisa Marie Phoenix Jackson • Posted on September 13 2021
How often has the climate in America made you debate booking a one-way ticket and figuring out the rest along the way? Puantarenas is considered one of the most important tourism regions due to the rich biodiversity of the misty tropical forest in the highland communities and cozy beach towns of Costa Rica's Pacific cost. As a continuation from my "Pura Vida en Dominical" piece in February, this article is a closer look at the remote work life I chose in Puantarenas province. 
Equipped with confirmed Covid-19 parameters, high-speed Wi-Fi connection, luxury geodesic dome accommodations, proximity to a small yet vibrant local community, and daily gourmet plant based meal plan, I set out to achieve a remote work life balance at The Imiloa Institute.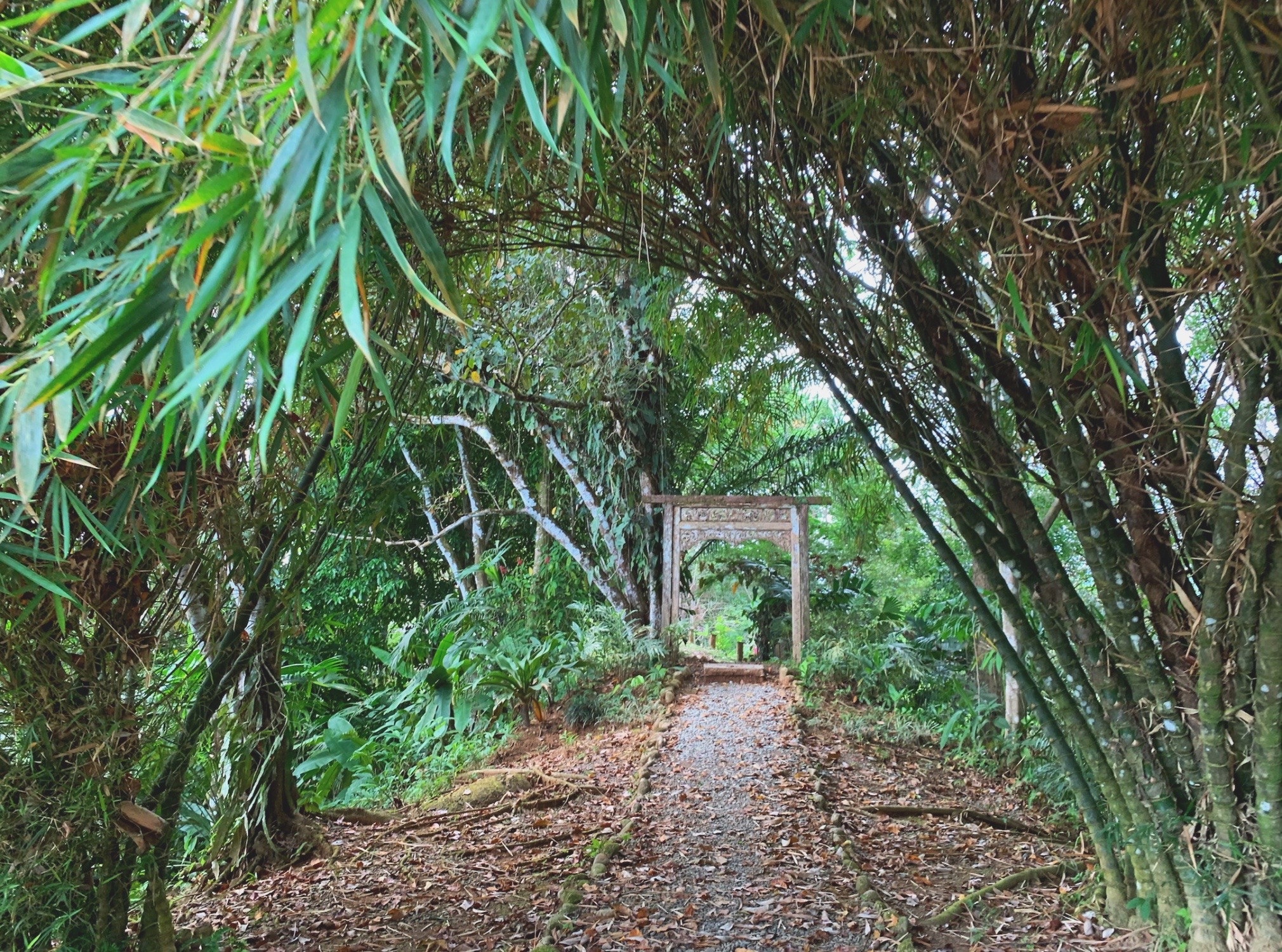 The Imiloa Institute
Imiloa was named by a Hawaiian elder who discovered their vision and said what they were describing was, "Imiloa." Imiloa means "creativity expressed through wonder and imagination." The tranquility of the heart of the Costa Rican jungle created a welcoming environment for me to create amid nature and the transformational leaders who gravitate to @imiloainstitute's global community eco-system. Honorable nod to the ever so dope Ashtanga aficionado and plant-based, CEO, @jakeaseville.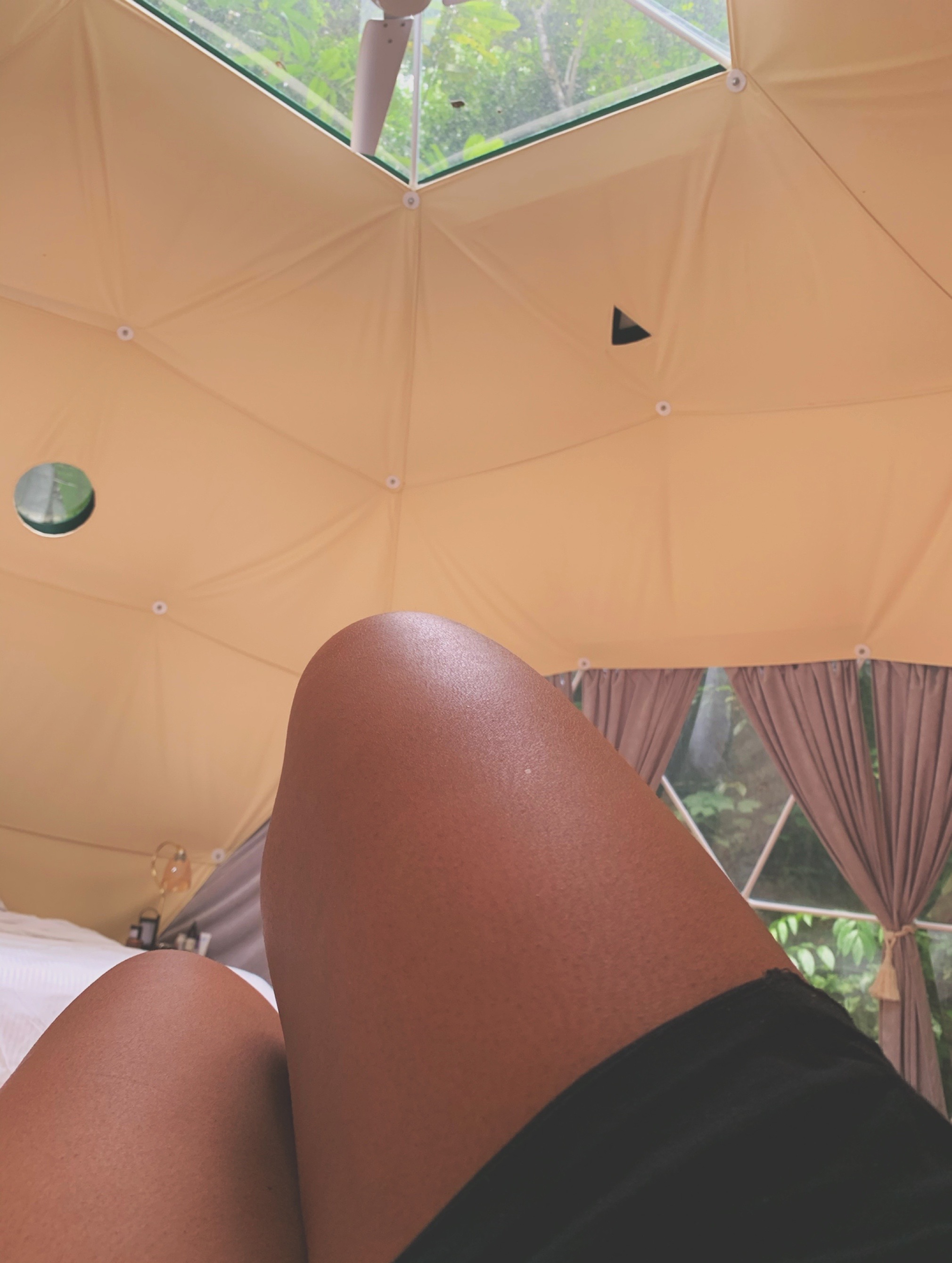 The Geodesic River Domes
How it was living in a Geodesic River Dome for one month? Up until this experience, the only other time I stayed in a geo dome was being off the grid for two days in the Wadi Rum desert so my awareness was limited. Thankfully the @imiloainstitute team answered my countless questions ranging everywhere from requiring a WiFi speed test from the dome to knowing the estimated daily hike time to key amenities in advance. They also gave me additional peace of mind by informing me that they're partially solar powered, safe, comfortable, and equipped with enough outlets for me to remotely conduct business. Some of the best times I had were simply yet greatly just laying down to gaze up at the trees swaying during storms or hiking the trails to work from Bali House between meals. A once in a lifetime experience that I would highly recommend and look forward to hopefully enjoying again during a milestone in the future.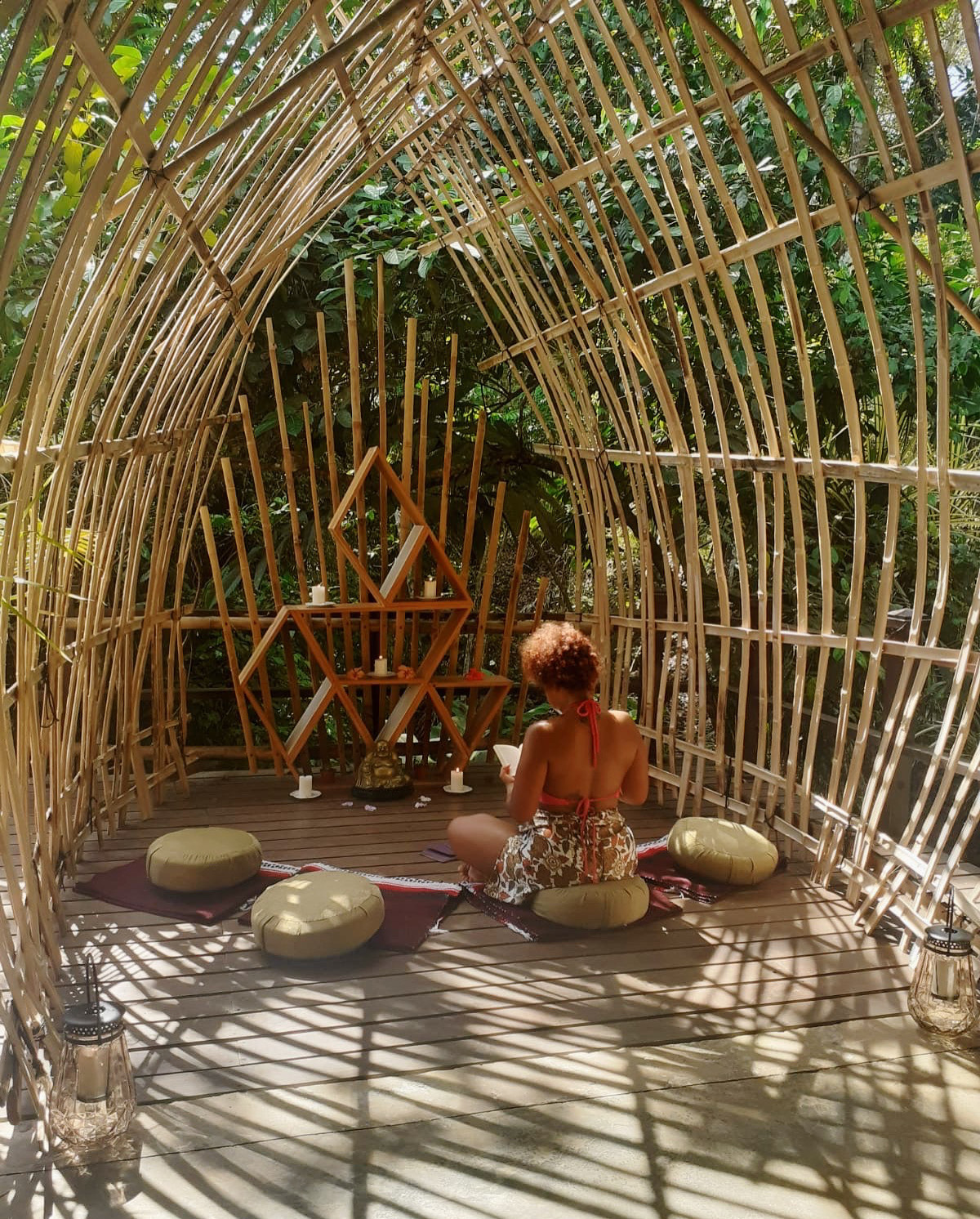 The Heart
This beautiful location is called "The Heart." I loved sitting here to reconnect with the earth and myself during times between meals when there was nothing but the sound of cicadas in the air over the bustling of my thoughts. Sitting until silence fell. I gained an immeasurable amount of clarity here.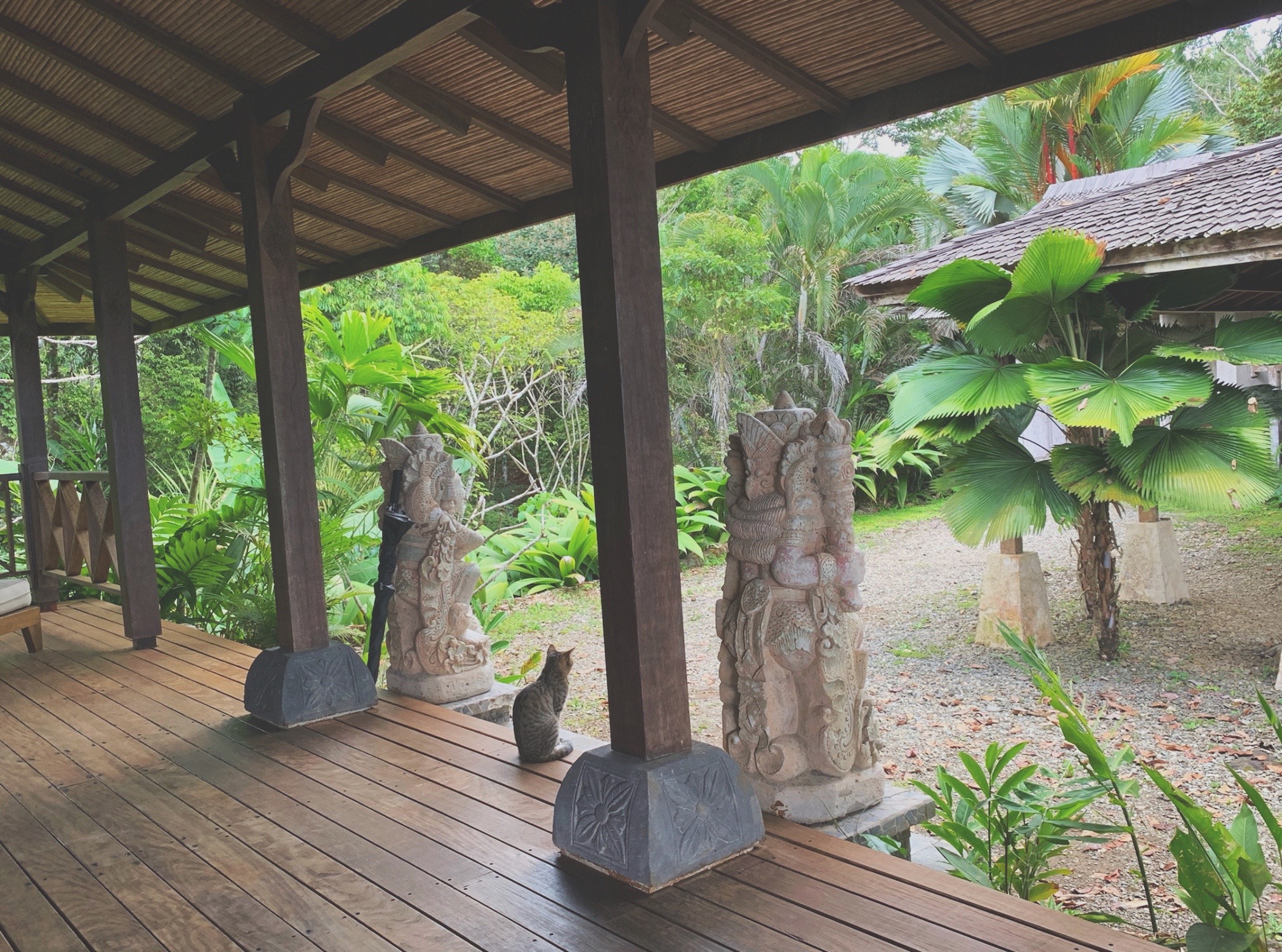 Bali House
My daily walk @imiloainstitute alongside Selena the cat often led me to a 200 year old home from Bali perched on a hill overlooking the Pacific. Bali House became a safe heaven where I can create, plug-in, unplug or simply be. The location is popular during the beginning and end of the day due to the sprawling views, yet relatively empty during business hours when people are exploring the grounds or off-site for experiences. Therefore, this became my #remotework office and sanctuary. The epitome of "come as you are," walking up the hill daily made me stop caring about how I look and more about how my body and spirit felt before tackling each day.
One of the things I enjoyed about #remoteworklife in the jungle is breaking down barriers that I had created as protection around myself to move forward in my life. Protection from being criticized, protection from getting rejected, protection from standing alone, and ultimately protection from being seen as less than a put together "product." This process started with the simple self-care practice of walking...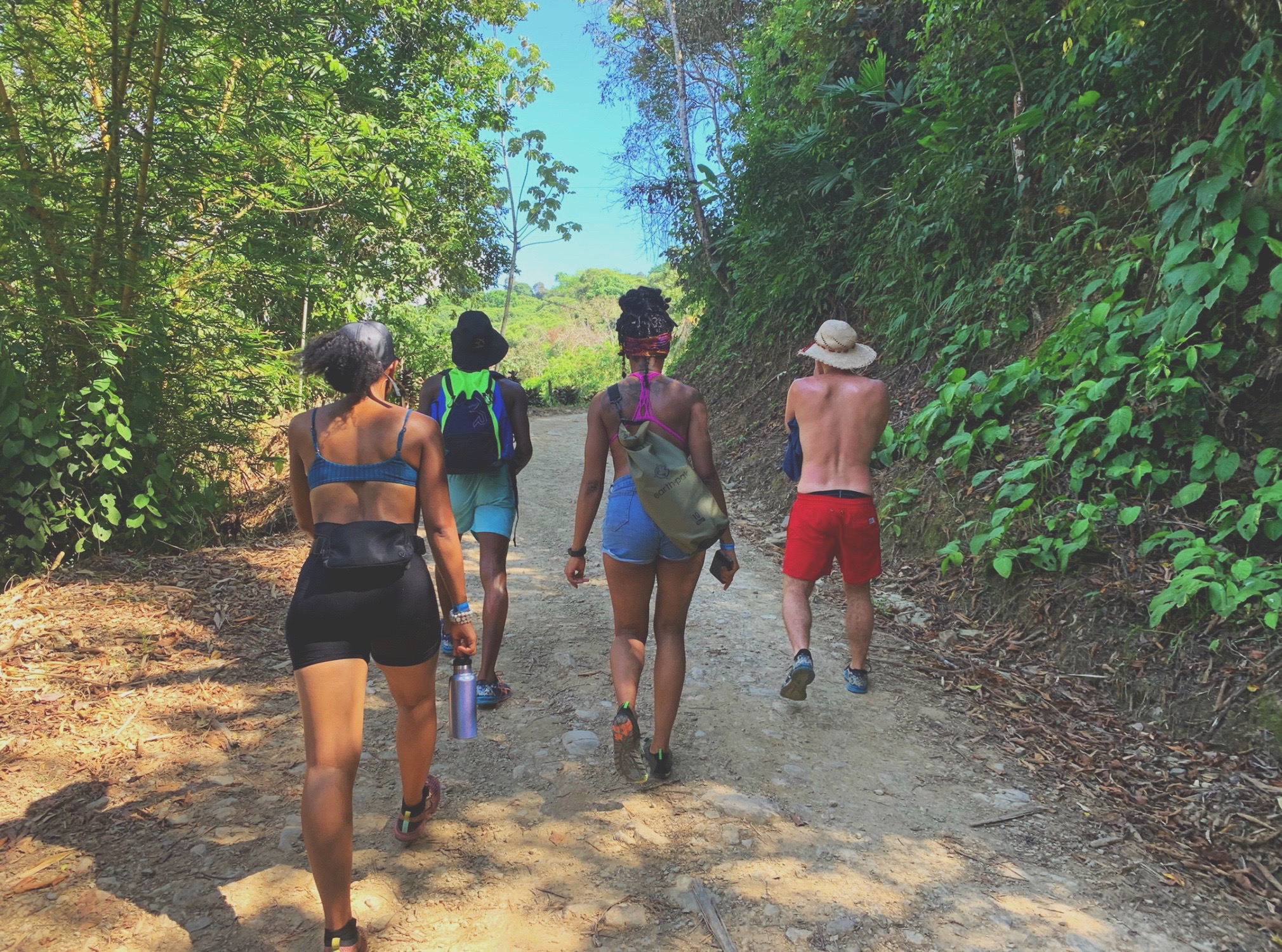 Nauyaca Waterfalls
Being encouraged to hike @nauyaca_waterfalls nature park gave renewed vitality to staying the course. Time travel with me for a bit so I can share the story about how Ki, Shar, Richard, and Diego did not let me give up 45 minutes into this all-terrain ass hike! 3 out of the 5 of us only knew each other for one week, yet became close enough to decide to trek together. With the false sense of confidence that riding a stationary bike during a pandemic provided, I "knew" I could handle this with ease. We started our adventure in the car to the sweet sounds of classic carnival soca since Richard is a Trini man, which makes his Partner Diego Trini by proxy. Things were off to a great start as we sang and wined down the road until… We reached the park office to get our passes and secure ourselves with sunscreen without knowing that this will be the last time our legs would be the same for the rest of the day. Upon parking, we hiked on various inclines for approximately 45 minutes when we started requiring breaks to regroup. Regroup for water, regroup for bug spray, and regroup to simply prep talk each other by reinforcing "your race, your pace." Hearing the flowing water in the distance gave hope. Rounding the corner to yet another incline sparked the contrasting feelings of inadequacy and defeat. I will never forget the way that we each stopped or circled back for one another. In particular, the words from my sister Ki to simply keep breathing and dancing. Countless inhales and exhales to laughter later, we made it! We made it to the fork in the road that led us to the thunderous flowing waters that made everything worth it. We made it because we remembered that reaching a pinnacle means nothing if you can't share it with the people who helped you reach the top. Just keep going and take note of who is beside you, encouraging and supporting you.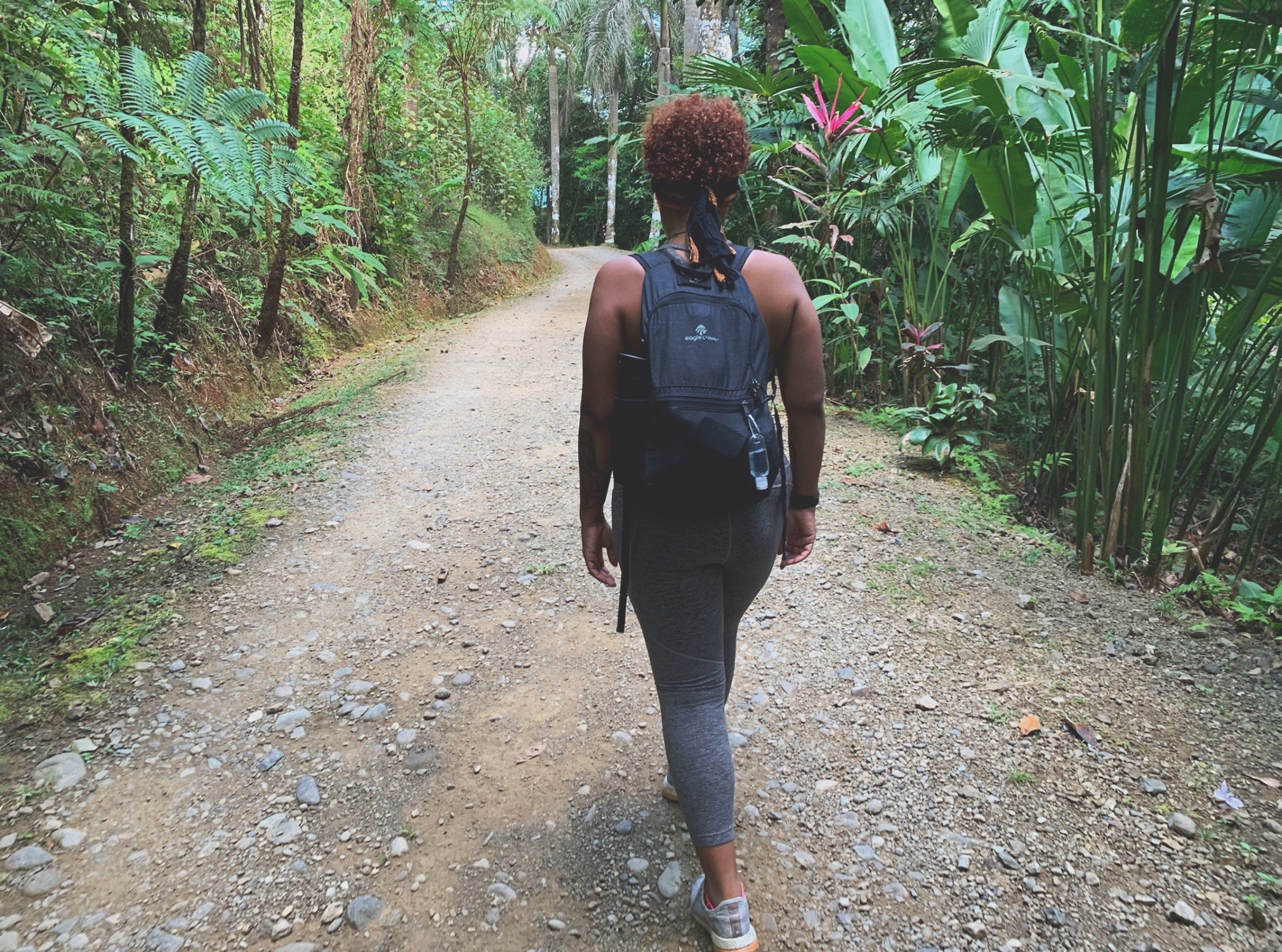 Hiking
Moments of solitude in #nature increased my confidence by inspiring me to bloom even when no one is watching. As someone whose personal life is centered around communities and core career responsibility is managing customer expectations, I found myself becoming only as strong as outside perceptions of me. Even though I spent a significant amount of time to myself during the top of the pandemic, my time in Costa Rica was the second place I voluntarily immersed myself in radical #selfcare. Retreating to Bali House to create a regimen that involved spending intentional time with my thoughts before nurturing a connection with anyone else.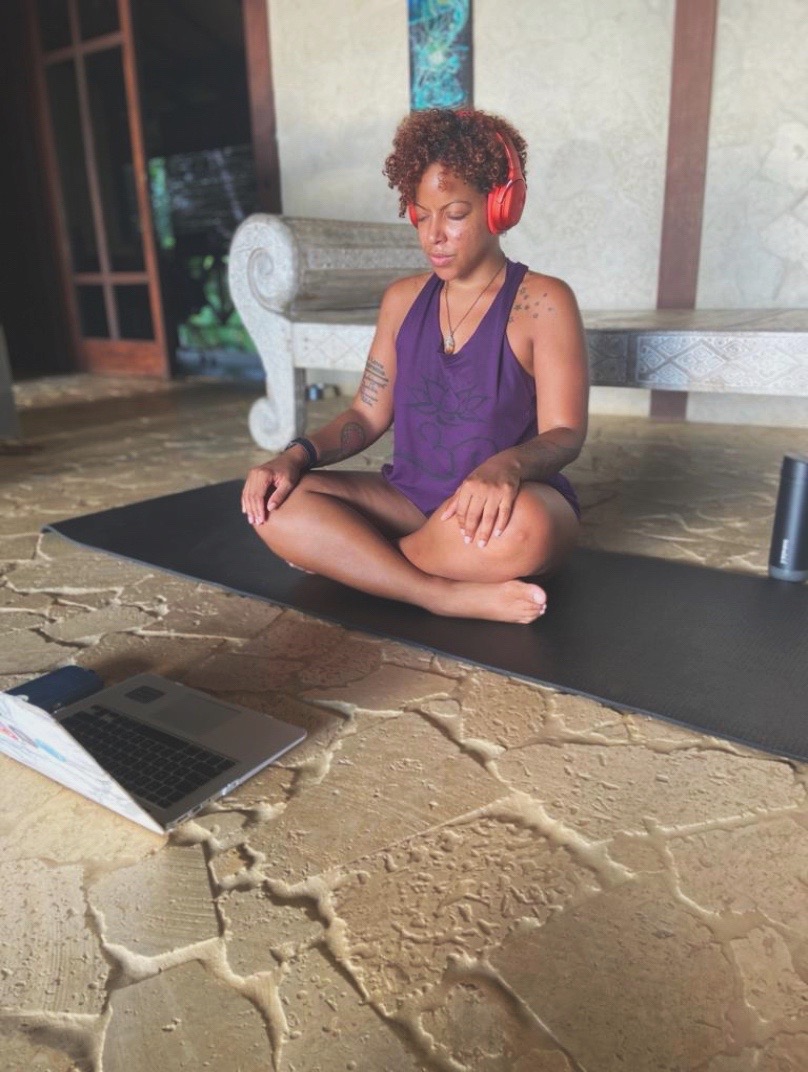 Meditation
How has meditation impacted your journey? For me, setting aside intentional time to meditate are 10 minutes a day has changed my life. As someone whose professional livelihood lives on digital screens, I had an unhealthy habit of waking up and immediate rolling over into my phone to check emails that I wanted to break. I tried everything from moving the charging station and extending the do not disturb window, yet nothing seemed to shake my affinity for immediately being in the know. Then I started feeling overwhelmed and anxious, even when in destinations that parallel my personal definition of paradise. Something had to give. Therefore, I decided to revisit guided meditations. The key word is "revisit" because I tried guided meditations before; however they did not resonate with me. I have been a member of the @onepeloton community since the holidays as a stationary bike rider where the #blackpelotonriders continually recommended the mediation sessions so I decided, "why not!" Meditation classes with @chelsealovesyoga revived my love for guided and solo meditations. It meant the world to see a mindfulness meditation and yoga instructor that bears the likeness of my family, has the tone and cadence of home, plus background soundtracks dipped in melanin. If you are like me and struggle to start new habits among a heavy travel schedule, start with as little yet as great as 5 to 10 minutes a day.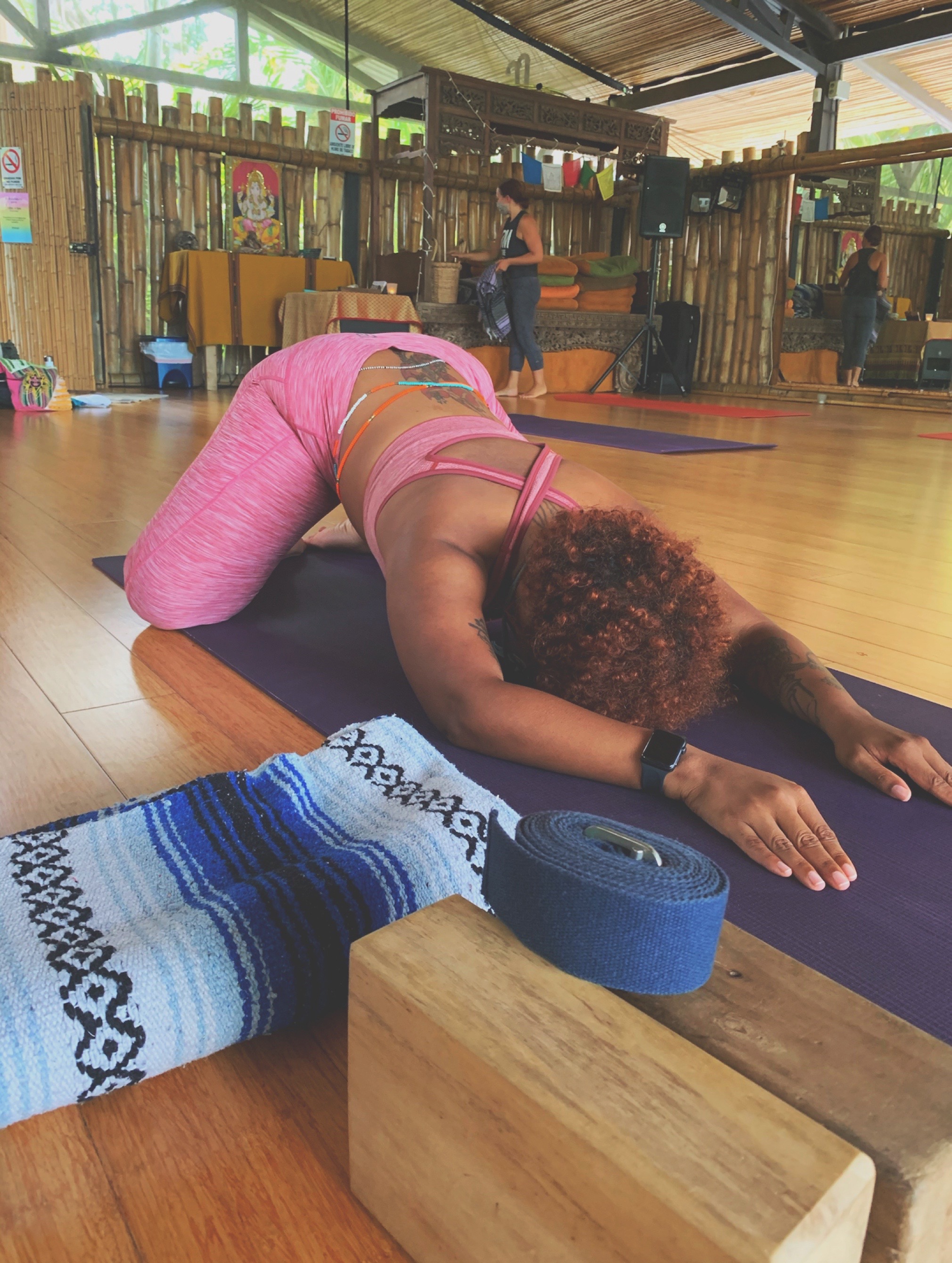 Yoga at Danyasa
Vinyasa flow yoga became an integral part of my self-care practice. I often transitioned into childs pose after class since it is a restorative pose that gently stretches my spine, thighs, hips, and ankles after longer 45 to 60 minute sessions. I appreciate all of the measures studios have put in place to ensure that our wellness journeys can be taken safely, yet collectively. @danyasa_yoga_retreat limits their class size to maintain social distancing, sterilizes props after each use, plus requires masks during check-in-entering, and exiting the studio. This made me comfortable return to in-person classes after only taking digital sessions for a year. It is important to have safe spaces as a whole, yet especially when tailoring to a predominantly traveler-based audience.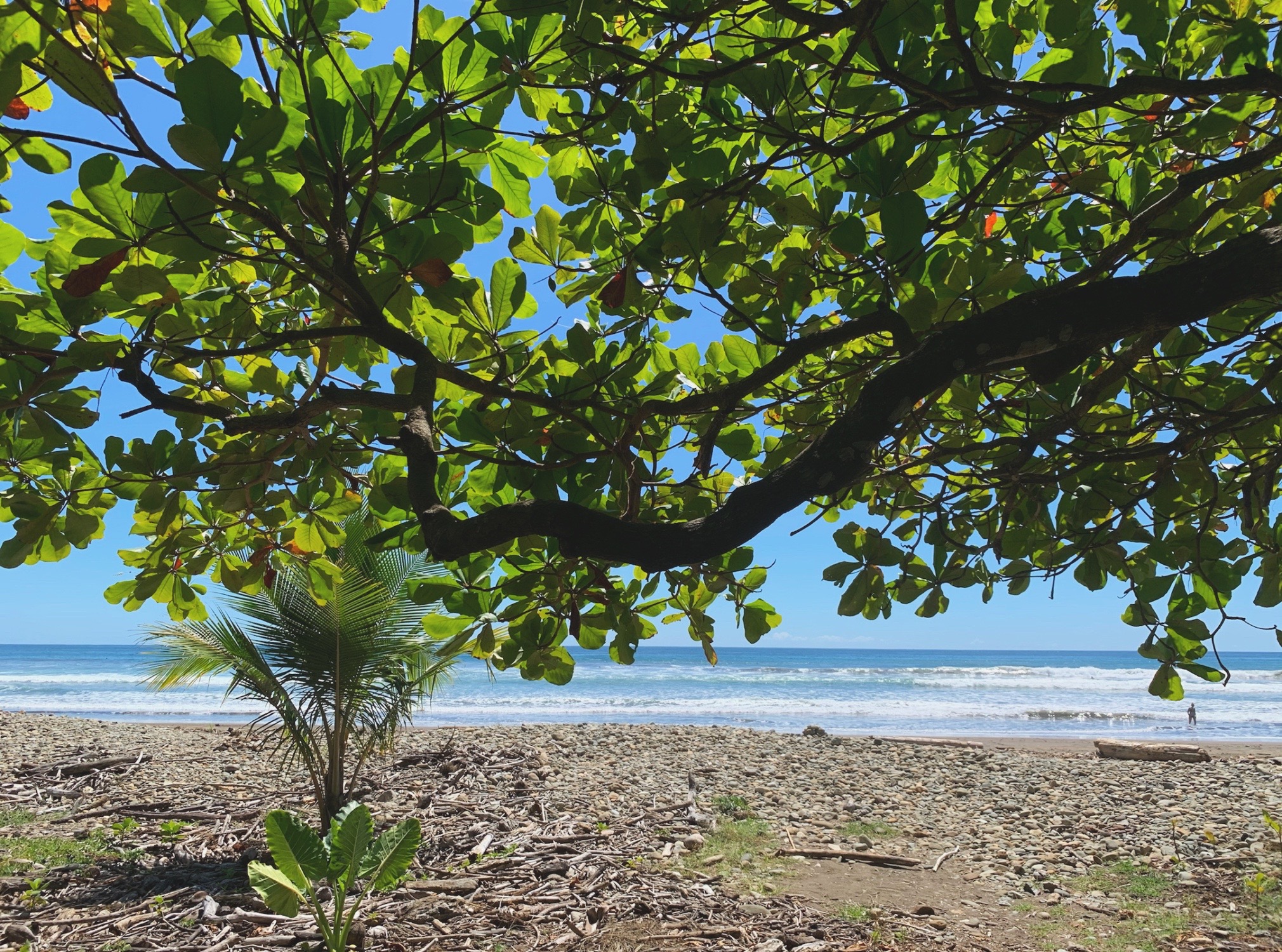 Playa Dominical
Outdoor #selfcare routines are a great way to reset from demanding business weeks. One of my past times at the beach is sitting in the sand, feeling the breeze, and putting together a light rock arrangement based on whatever elements are inspiring me in the moment. This gives me an opportunity to release myself from heavy demands, yet still give my creative energy a space to breathe. Outdoor photography is a part of my #selfcare routine because the creative process helps me focus on the present and forget everything else going on around you. Vibrant lifeguard stations, lush trees, and contagious laughter from being swept up in joy. What I love most about outdoor photography is that most places in the daytime benefit from natural light and can be conveniently captured on a mobile device. Even if your personal collection is never shared beyond your cameraphone roll, you will always have a moment captured in time where you took a moment to be... Overall, sometimes the water calls to you. For as long as I can remember, water has always been synonymous with fellowship. As a child who was raised in a Southern Baptist household, water symbolized unity in spirit. As a young adult, being near the water equated taking a break with community. As a daughter whose mother became her closest angel, water became a meeting ground to hear her clearly. As an adult, water is where I allow my poems and prayers to take shape. Being near the water has personally aided my balance by providing a calm space for clear communication and emotional expression.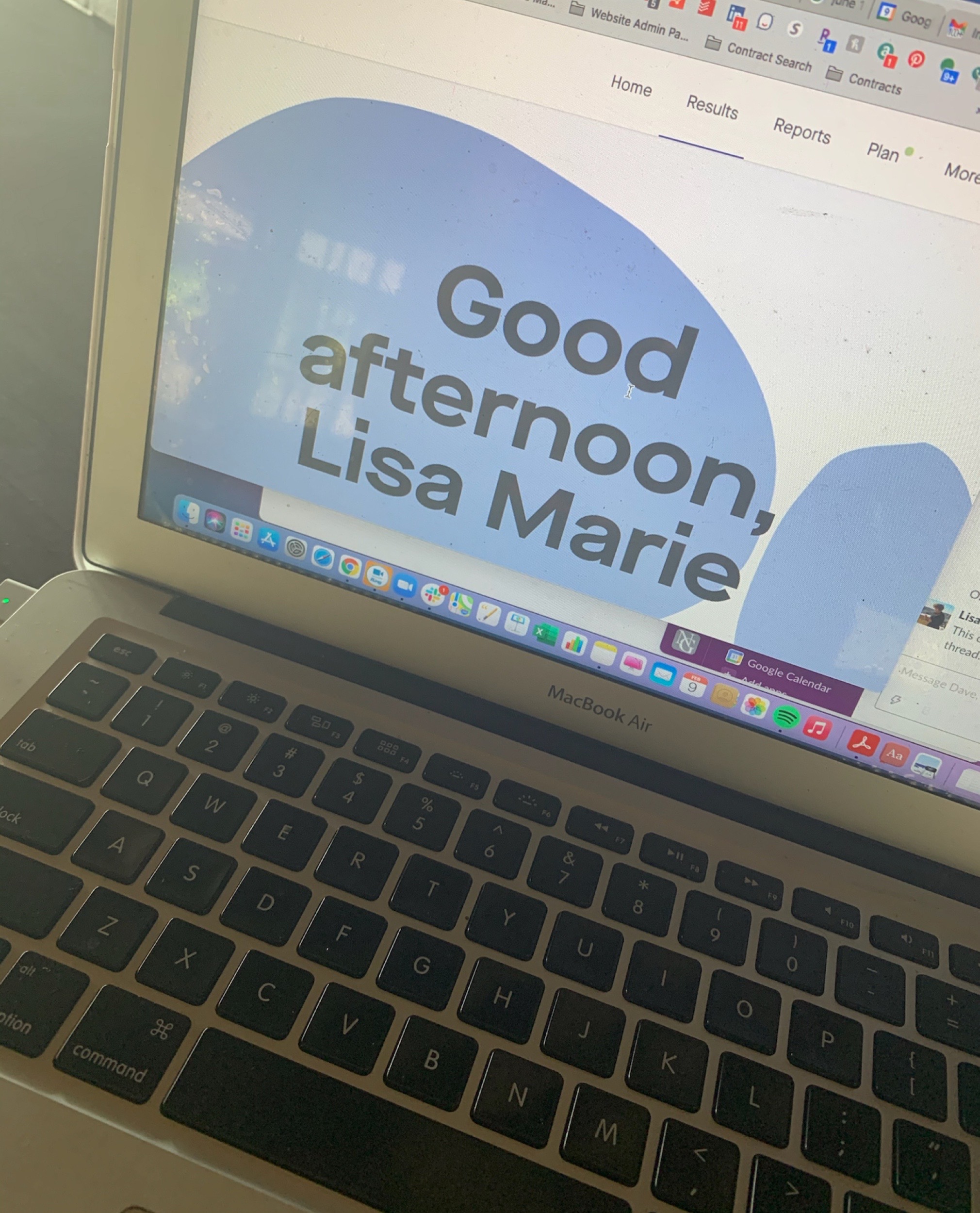 Modern Fertility
I received the results to my @modernfertility hormone test in Costa Rica. I decided to share the process I did with the at-home kit a few weeks prior for anyone who is also considering adding fertility testing to their life journey. I sought out this kit as the main barriers I had to traditional testing was finding a trusted provider in my network and then carving out intentional time without backing out of it. This option provided the pricing approachability and flexibility I needed. Don't get me wrong. I let the kit sit in my home office for weeks as I was anxious about what the results had in store for me. Coupled with the fact that I am always on the move and not in a relationship, I talked myself out of it on more than a few occasions. Encountering the shared stories of women I respect who have parallels to me, empowered me to take the leap of being informed and simply taking it from there. Since the journeys of fellow femmes spoke to me, I wanted to pay it forward with a glimpse of mine. I've also shared the referral link accessible via clicking on the adjacent picture so that you can get the same discount I did if you decide to use this method. Many of us are out there so know that you're not on this journey alone.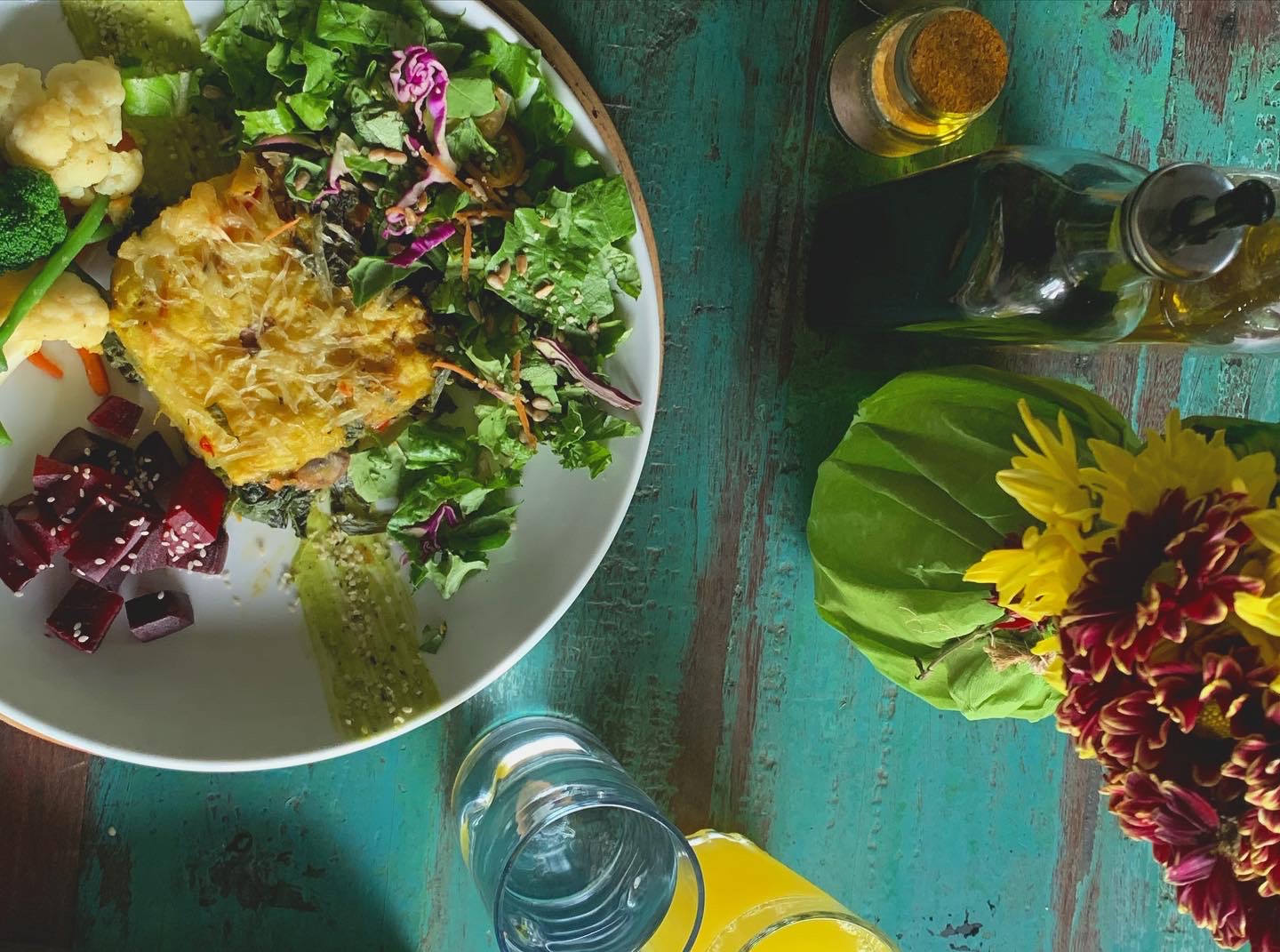 Ayurvedic Meals by Pedro Prabhu
I would be remiss if I did not mention Ayurvedic Chef extraordinaire, @pedroprabhu as an integral part of my #selfcare journey! I had the honor to eat phenomenal plant based meals from Chef Pedro three times a day for a month and can honestly say his meals are made from the depths of his heart. He pours love onto each plate with the intention of holistic healing. Words cannot fully express his talent so I encourage you to click on his profile and look up the countless videos about his touching journey. He is a selfless man who shares his light force daily. Plus, he makes the best plantain empanadas I've ever had in my life! Since I know he'll definitely see this happy hippie moment… Love you, Pedro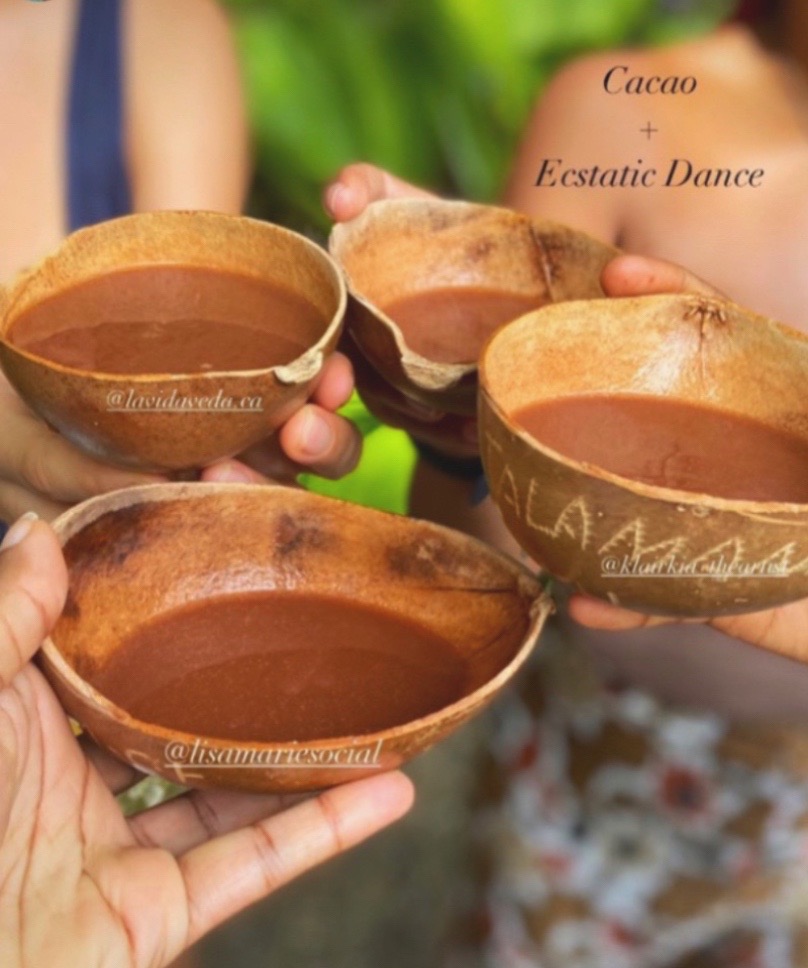 Soul Sundays by Aliza Rivka
One of the favorite #grounding rituals that I enjoy is sipping warm #cacao while setting intentions followed by dancing. Every Sunday @imiloainstitute was #soulsunday hosted by @aliza.rivka. A morning where everyone would come together in an open air space to kick off our shoes, sip cacao, and dance in the safe spaces we carved out for ourselves during the session. There are times when I would sit on the floor to journal in a leather bound book with a compass embossed on it that @addvic_e gave to me as base pulsed through the wooden floor. One of those final times is when I sketched out the framework for @traveljerne. I had always assumed that grounding and clarity could only be achieved in solitude, until this experienced helped me realize my center could also be achieved amid community.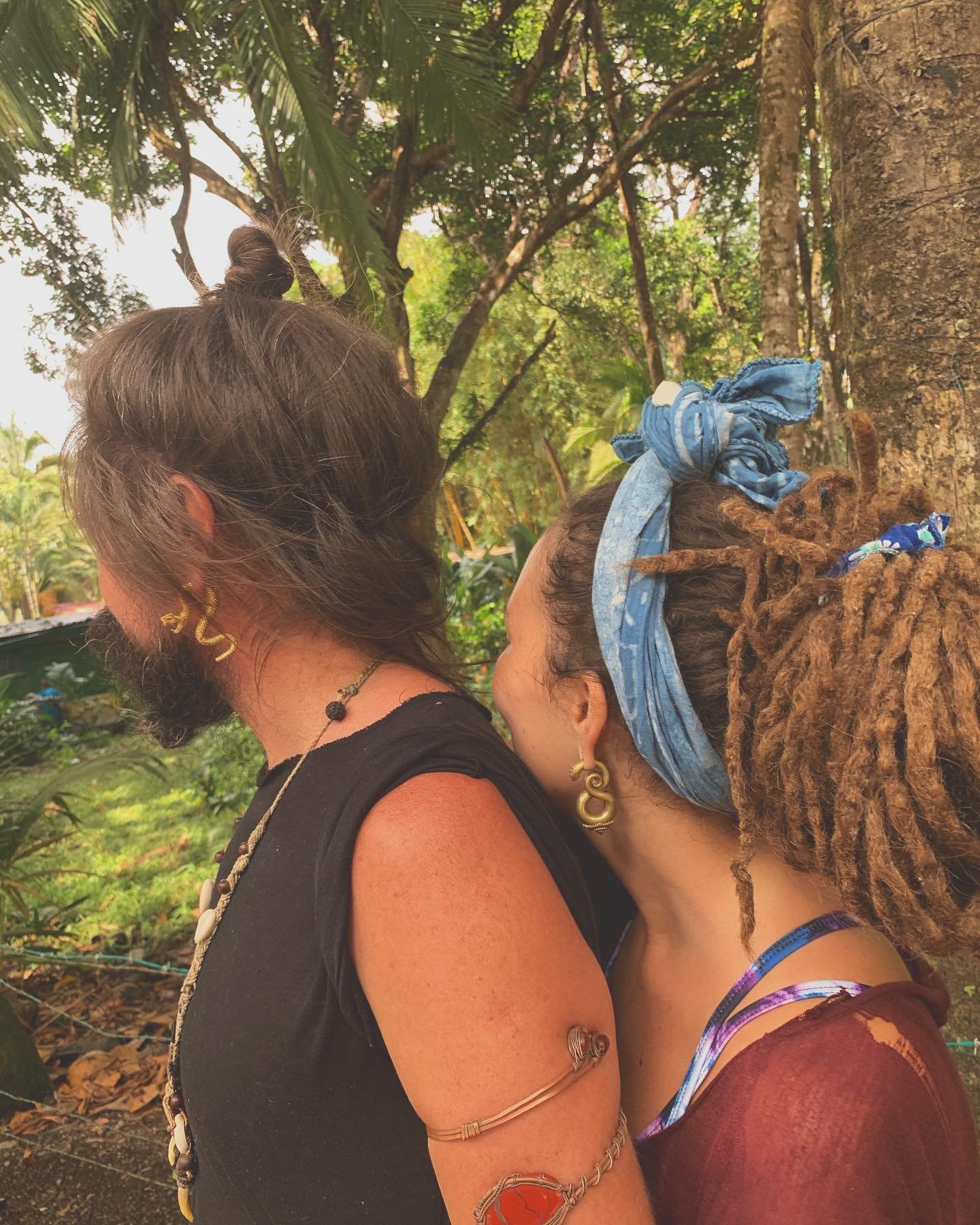 I loved walking the path alongside Playa Dominical to visit phenomenal traveling artists like, @kamala.kreations & @pachijewels! These two beautiful souls shared the backstory of their individual and collective travel journeys that led them to Costa Rica during the pandemic. They also patiently walked through their handcrafted jewelry as I fell in love with their collections. I ultimately ended up with a few pieces that have become priceless signatures in my day-to-day life. Looking forward to getting an opportunity to build with them when our paths cross again.
Here is also a detailed recap of my dedicated time in Dominical before my short-term residency @imiloainstitute: https://www.lisamariejackson.com/whats-niche/2021/2/2/pura-vida-en-dominical 
I created a Travel ˈjərnē bracelet collection inspired by Costa Rica. This collection is handmade with natural crystals and minerals to support fellow remote workers in their self-care journey. Each bracelet is a nod to experiences encountered while working here. With only 24 hours left, this is your last chance to get a free set with purchase of the August Self-Care Club Box.